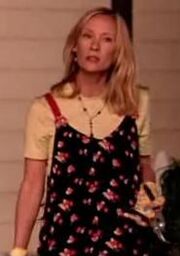 Adrianna was a college friend of Lianne Mars and helped Lianne during her recovery from the mental institute and helped her look for Keith and Veronica Mars.
Personal assistant to Lianne
Edit
She helped Lianne when she was on the run, but wasn't told where she went next because she wouldn't be able to keep a secret from Keith Mars. When Veronica Mars tracked her mother to Adrianna's house, Adrianna assured her that Veronica was all Lianna thought about. Veronica wasn't convinced. (Meet John Smith)
Ad blocker interference detected!
Wikia is a free-to-use site that makes money from advertising. We have a modified experience for viewers using ad blockers

Wikia is not accessible if you've made further modifications. Remove the custom ad blocker rule(s) and the page will load as expected.