Credit Where Credit's Due
Comments

0
181pages on
this wiki
| | | |
| --- | --- | --- |
| Episode No. |   | Season |
| 2 | 1x02 | One |
| | |
| --- | --- |
| Original Broadcast Date | September 28, 2004 |
Chronological Information
"Credit Where Credit's Due" is the second episode of the first season of Veronica Mars.
Synopsis
Edit
When Weevil's grandmother is accused of credit card fraud, Veronica sets out to prove her innocence. Also, Veronica is put into journalism class, taught by Ms. Dent, which leads to an uncomfortable car ride with Duncan.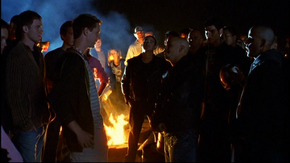 Veronica Mars is at Neptune High figuring out what to do on Friday when Wallace approaches her and suggests that she come along to an 09er party with him. Veronica explains to Wallace what an 09er is as he has not heard of them before. After Veronica explains the details of an 09er and the invitation picture to the party that Wallace shows her, she declines his offer and tells him that she would not go to another 09er party because she experienced them before and it is not her type of place for having fun.
At the Neptune Beach, the 09er party has begun and Duncan Kane introduces his new friend Troy Vandegraff to Logan Echolls and his girlfriend Catlin Ford. As the party is going on, Weevil, Felix Toombs and their friends arrive at the party to insult Logan and the other 09ers at the party. As the argument progresses, Don Lamb and his deputy arrives to breakup the fight and all the teenagers run away leaving all the alcohol for Lamb to take.
The next morning, Lamb arrives at Weevil's house and arrests his grandmother, Leticia Navarro, for the charge of credit card fraud. As Lamb and his deputy arrests Leticia, he says to Weevil that somebody took credit card offers from the Echolls family and opened accounts and created charges. The accounts lead to Leticia's PO Box leading them to believe that Weevil's grandmother used them to pay for Weevil and his friends' expenses. At Mars Investigations, Leticia's lawyer, Cliff McCormack, reads off a list of charges used by the created Echolls credit card account while Veronica and Keith listen.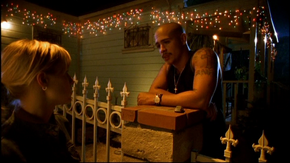 After planning what to do with the situation, Veronica leaves to visit Weevil to ask him if what happened with Leticia is true. Weevil prefers not to answer Veronica even when Veronica reminds him that Leticia is in jail. Weevil then talks about how he does not trust Veronica either as he still believes that she is loyal to 09ers even when she tries to be an outsider. Weevil tells Veronica to leave as he turns around to go back inside his house.
At a restaurant the next day, Veronica and Keith are eating lunch together when Lamb arrives with his deputy to pick up lunch. Lamb sits down to talk with Keith and insult him on how he is no longer sheriff. Both of them then start to talk about the Lilly Kane murder case. Keith brings up how Lamb was able to arrest Abel Koontz and claims it was a stupid move. Lamb bring up how Keith blamed Jake Kane for the murder of Lilly Kane and says that that move was just as bad. When both Veronica and Keith have nothing to say, Lamb and his deputy leave the diner. Veronica tells her father that she needs to leave to Neptune High due to her counselor wanting to talk about Veronica's current classes and her behavior.
After seeing her counselor, Veronica runs into Troy Vandegraff waiting for his appointment with his counselor. After Troy leaves, Wallace arrives at the meeting room and tells Veronica that due to having not enough students to form a swimming team, Wallace is to be an Office Aide for the school. Veronica is delighted and immediately asks Wallace to copy Weevil's attendance records as Veronica wants to know if he has been absent during the time of the fraud. Veronica then enters the classroom for Newspaper Class and introduces herself to the teacher, Mallory Dent, and says that the counselor placed her in this class due to her being disconnected and passionless. During their short talk, Catlin Ford is in the classroom and tells Ms. Dent that she is going to the gymnasium to interview the athletes for the student poll.
As she leaves, Veronica tells Ms. Dent that she would like to take photos for the class and that she prefers to use her own camera for the duties. Ms. Dent acknowledges Veronica's determination and tells her that she already has an assignment for her for the next day and introduces Veronica to her partner for the assignment, Duncan Kane. As Veronica looks back at the entrance door, she sees Wallace holding a file containing copies of Weevil's attendance records.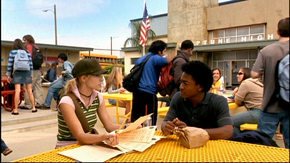 During lunch, Veronica and Wallace examine the credit card reports and the attendance records and Veronica reports that a majority of the charges were online orders and were mostly made during 11:00am – 12:00pm and that takes place during fourth period at school. Veronica asks herself how it is possible that the person who made the charges during the described time was in an auto shop and was able to have time to make online orders as there is no internet connection in the auto shop. Back at Mars Investigation, Veronica tells Cliff and Keith that she doesn't think Leticia is the one who made those charges. As she tries to explain, Cliff tells Veronica that Leticia was released from jail. As Veronica is happy to hear the news, Cliff continues and said that she was released because Weevil confessed that he was the one responsible for the crime.
Back in newspaper class, Logan Echolls is socializing with Catlin until Veronica makes a statement about how identity theft is mostly made by relatives of the victim. Catlin tells Veronica that she should not speak as no one will believe her after what she and her father had done to 09ers in the past year. Logan even suspects Veronica joining newspaper class just to be closer to Duncan. Veronica then lies to Logan saying that she has government class with him during fourth period. However, Catlin reveals that they actually have computer lab class during fourth period and Veronica smiles at herself while they look away. During lunch, Veronica tells Wallace that she printed out the entire browser history from Logan's computer in his computer lab class and she claims that he has made a credit card charge for the honeymoon suite at the Neptune Grand.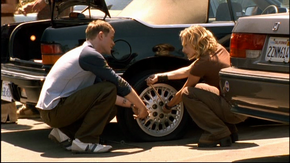 After school, Veronica goes to her car only to find that someone flattened her tire for the second time during her school year. As she tries to replace her tire, Troy Vandegraff sees her struggling and helps her while introducing himself. Across the parking lot, Catlin and Logan watch Troy help Veronica and Catlin shows distaste. During the replacement of the tire, Duncan arrives and offers Veronica a ride to the beach to take pictures for their assignment on Bodie Chang. Due to a tight schedule, Veronica has no choice but to go with Duncan and Troy offers to fix her tire while she is away.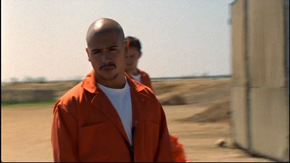 During the ride to the beach, Veronica wants to open the passenger door and roll out of the car to avoid conversation with Duncan. But before Veronica can jump out of the car, Duncan makes a statement about how Lilly loved the song that was playing on the radio. Veronica then has a flashback of her talking with Lilly in her car and how Lilly's mother didn't really like Veronica. Lilly advised Veronica to watch her mother as she would do anything to breakup Veronica and Duncan. Then Veronica ends her flashback as Duncan drives by a group of people from jail doing their work and Veronica sees Weevil wearing the same orange jail jumpsuit working with the others.
At the beach, Duncan interviews Bodie Chang while Veronica gets the pictures for the newspaper article. On the way back home, Veronica and Duncan are pulled over by the Sheriff's Department due to them noticing the car and that it has a number of parking violations and tickets. Immediately, both of them know that it was Lilly who made these violations one year ago. As both Veronica and Duncan's parents picked them up from the road, Veronica recalls how Keith and Jake Kane were together in an interrogation room after the death of Lilly Kane and how Keith blaming Jake impacted Veronica's life as she stood by her father's side and majority the 09ers in Neptune disliked Keith and Veronica.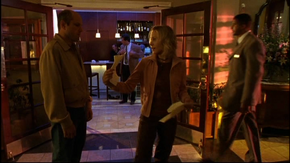 During the drive back home, Veronica and Keith have a conversation about how their life is going. After the conversation, Veronica asks Keith if he could take Veronica to the Neptune Grand. Declining at first, he soon agrees. Inside the Neptune Grand, Veronica and Keith act out a scene where Keith is an angry father and Veronica is a pregnant daughter and asks the desk clerk if she can show them a video surveillance of the man who was at the hotel and made reservations for the honeymoon suite as Veronica pretended that the man is the father of her child. As they show the desk clerk the credit card charge, the clerk claims that the hotel only keeps video surveillance for only two weeks but she did have a detailed billed summary. It is then revealed that the person who used the Echolls credit card for room service at the hotel was Caitlin Ford.
At newspaper class, Veronica approaches Logan and tells him that she knows about him stealing his mother's credit card and using it for Catlin but having Catlin sign the bill for room service. Logan calmly denies her claim and tells her to prove it as he walks away. At lunch, Veronica and Wallace are talking about the case when Troy offers Veronica an invitation to his party. Veronica doesn't know if she wants to go yet and Troy leaves. Soon after, Veronica leaves saying that she is going to get the truth out of Logan. At another table, Logan is talking to Duncan and asking him about Troy as they see him talking to Catlin. As Duncan leaves, he reminds Logan that he is in charge of Catlin's purse.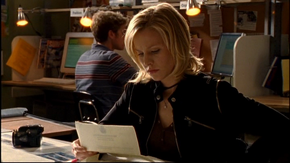 In a computer lab, Veronica is using her phone to call a list of different phone numbers that Catlin called from the hotel. Veronica got this information from her night at the hotel. At the same time, Logan is checking Catlin's phone from her purse and notices a phone number that she called in 1:00am from her phone history. In the computer lab, Veronica calls the last number in the list, and Logan re-dials the number Catlin called before. Veronica receives a busy line tone but Logan's call is answered and it is another man's voice. Veronica then calls her father and asks him to trace the number of the phone while Logan is outside looking to see if the man he was on the phone with is outside with him. After a few moments, Logan see the person who is was talking to: Chardo Navarro.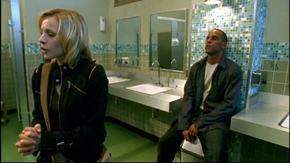 After lunch, Chardo is walking down the hallway and Logan is closing in on him when Veronica comes out through the crowd of students and pulls Chardo into the girls bathroom and tells him she knows how he took the Echolls' credit cards and started spending them and also used them for Catlin Ford as he is the one who made the reservations and the room service orders at the Neptune Grand. Veronica also tells him that Weevil is in jail when it should be him. Chardo knows about what he has done and does not want trouble to happen to Weevil and Leticia. Chardo reveals to Veronica that he has a plan for him and Catlin to run away together and he will write a confession and Weevil should be released. Veronica tells Chardo that Catlin will not go with him and he should turn himself in before Logan finds him and things get worse. Chardo denies Veronica's claim and leaves.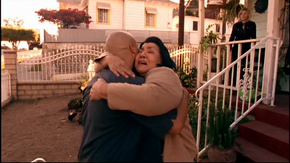 Veronica goes to visit Leticia and tells her about Chardo and Weevil. Leticia reveals that Chardo is one year older than Weevil and he already has some sort of a criminal record and he should not go to jail. Veronica persuades Leticia that Chardo is using the expenses for spoiled Catlin and she finally agrees with Veronica that Chardo needs to confess. Moments later, Weevil is released from jail and a warrant for Chardo is out.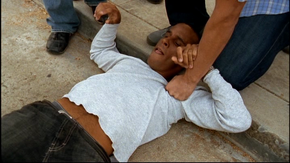 Chardo arrives to Catlin's house telling her on the phone that it is time for them to leave. However, Logan and other 09ers arrive at Catlin's place and Logan starts a fight with Chardo while Catlin watches from her upstairs window. Not soon after, Weevil and his gang arrive as well. Instead of fighting, Weevil asks Logan to walk behind his car with him as they talk. After a short conversation, Logan orders his friends to let Chardo go before everyone leaves Catlin alone.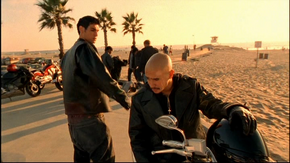 At the Neptune Beach, Chardo thanks Weevil and his gang for getting him out of trouble and away from a fight. As Chardo turns to thank Weevil, Weevil tells him that he is out of their gang and out of his life due to Weevil going to jail for him. As Weevil walks to his motorcycle, the other gang members started beating Chardo before Weevil as the scene.
Back at Mars Investigations, Veronica asks Keith why he chose Jake Kane as the murderer. Keith tells Veronica that he cannot tell her since he made his decision only to try to protect Veronica and her mother. Instead, Veronica walks to the Sheriff's Department using a fake ID that she and Lilly made as a joke to ask the receptionist about one of the tickets Lilly made. Veronica receives the information and walks back to Neptune High thinking to herself how there could be a photo of Lilly running a red light supposedly two hours after her time of death.
Veronica realizes how complicated the case really is and nothing adds up to this point. As she wondered how the alibis of Jake Kane and Celeste Kane do not connect with the new information Veronica has received, Troy and Wallace arrive asking her why she did not make it to Troy's party. As she explains, they see Catlin trying to find a seat with Logan and her 09er friends. Due to them knowing about what she did, they did not allow her to sit and she moves to another area. As Catlin walks away, Veronica, Troy, and Wallace leave their lunch table to play Golden Tee at Sac-N-Pac.
Arc significance
Edit
Veronica finds out that Lilly ran a red light two hours after she was supposed to have been murdered
Troy Vandegraff (Aaron Ashmore) arrives in town.
Veronica begins her venture into journalism. A hobby in which her detective skills prove useful and allow her to excel. She will continue her side line journalism career throughout the entire series.
First appearance of Dick Casablancas, who would go on and become a regular.
Guest Stars
Edit
"Word Up" - Korn
"Hi Lo" - Under the Influence of Giants
"Troubled Times" - Fountains of Wayne
"Here It Comes" - Longwave
"Lover" - Maureen Davis
The front of "Neptune High School" has the giant word PIRATES painted on it. The top of the word "Pirates" clearly has "Oceanside" in it, the name of the real school where this scene is shot (whose mascot is also the pirate). In later episodes, this is covered up with a banner.
Veronica and Chardo Navarro are talking in the girl's bathroom. On the front mirror is reflected, almost entirely, the camera and one hand of (presumably) the cameraman. At the same time, in the upper part of the screen, is also visible a boom mic.
Veronica states that that the ZIP code for the classy part of Neptune is "90909". There is, in fact, no such ZIP, but ZIPs beginning 90- are restricted to Los Angeles County. Neptune, in mythical Balboa County, is clearly in the San Diego area, so the ZIPs should begin "92-".
Early on Weevil's 'gang' talk about how he has failed senior year multiple times, yet later in the second season he says that he is 18. In this episode Weevils grandma tells Veronica that Weevils is a minor. But they said he had failed senior year more than once.
When in the diner with her father, Veronica puts her cap back on twice.
External links
Edit