Felix Toombs
No image available
Physical Information
Sex:
Male
Hair Color(s):
Black
Eye Color:
Brown
General Information
Family Members:
Gustavio (older brother)
Death:
Stabbed by Eduardo "Thumper" Orozco
Portrayed By:
Brad Bufanda
Felix Toombs was a member of the PCH biker gang. His brother was the previous leader of the gang before Weevil took over the role. He was Weevil's former right-hand man and best friend. Felix was in a relationship with a Fitzpatrick, and their family didn't really approve of Felix. Thumper took this opportunity to kill off Felix to prove his loyalty to the Fitzpatricks, and start business with them. He stabs Felix and frames a heavily injured Logan Echolls. He eventually usurps control of the bikers when Weevil finally finds out about what's been going on. Weevil pays him back by knocking him out and stealing the money made for the drugs provided by the Fitzpatrick. Thumper is chained and gagged inside the Stadium to be blown up. Logan indirectly kills him by pushing the trigger for the detonator.
Felix was revealed to have planned to run away and start a life together with Molly Fitzpatrick prior to his death, when it was discovered that Felix had planned to get a tattoo of her on his chest/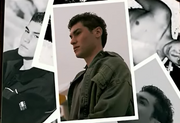 In the 2014 movie, 'Veronica Mars', During a High School reunion, he was mentioned in a tribute video to students who has died. Weevil appeared visibly saddened at the mention of his former best friend.
Appearances
Edit
Ad blocker interference detected!
Wikia is a free-to-use site that makes money from advertising. We have a modified experience for viewers using ad blockers

Wikia is not accessible if you've made further modifications. Remove the custom ad blocker rule(s) and the page will load as expected.