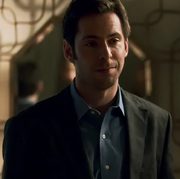 Martin Starr (born Martin James Pflieger Schienle; July 30, 1982) is an American actor who played Stu Cobbler in the film Veronica Mars.
Early Life
Edit
Starr was born in Santa Monica, California, the son of Jean St. James (née Pflieger), an actress, and Jim Schienle, an instructor at Pasco-Hernando Community College. His father is from Wisconsin and his mother is from Kansas. His ancestry includes German, Austrian, Hungarian, Czech, Polish, English, and Scots-Irish.
Starr was cast in the NBC sitcom Freaks and Geeks with Veronica Mars movie actors James Franco and Dave Allen and Veronica Mars series actor Sam Hamm. From 2009 to 2010, Starr was a series regular on the Starz sitcom, Party Down, created by Rob Thomas and featuring actors Adam Scott, Ken Marino, Ryan Hansen, Jane Lynch, Joey Lauren Adams and Kristen Bell. He later starred with Kristen Bell in the The Lifeguard.
Ad blocker interference detected!
Wikia is a free-to-use site that makes money from advertising. We have a modified experience for viewers using ad blockers

Wikia is not accessible if you've made further modifications. Remove the custom ad blocker rule(s) and the page will load as expected.