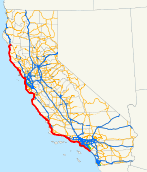 The Pacific Coast Highway (PCH), officially known as California State Route 1, is a state highway that runs along much of the Pacific coast of California. It extends southward into the coastal areas of Balboa County (though in RL the highway ends in Orange County), where the road is strongly associated with the biker gang that frequents it.
Ad blocker interference detected!
Wikia is a free-to-use site that makes money from advertising. We have a modified experience for viewers using ad blockers

Wikia is not accessible if you've made further modifications. Remove the custom ad blocker rule(s) and the page will load as expected.