| | | |
| --- | --- | --- |
| Episode No. |   | Season |
| 1 | 1x01 | One |
| | |
| --- | --- |
| Original Broadcast Date | September 22, 200 |
Chronological Information
"Pilot" is the first episode of the first season. This is the first episode of Veronica Mars
Veronica Mars begins her junior year at Neptune High trying to re-adjust her life after her boyfriend, Duncan Kane, left her and after the murder of her best friend, Lilly Kane the previous year. While helping her father, private investigator Keith Mars of Mars Investigations, with investigate the possibility Jake Kane, father of Duncan Kane and Lily Kane, is having an affair with another woman, Veronica discovers more clues related to the Lilly Kane Murder Case. Veronica decides to find Lilly Kane's true killer and discover who raped her a year earlier.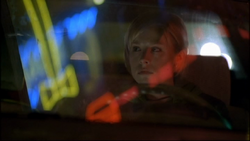 the street from the Camelot Motel, Veronica Mars sits in her car spying into the window of Room 6 where a certain man is with an unknown woman. Veronica assumes they are having sexual intercourse and a (presumably) soon-to-be ex-spouse will seek her answer and her retribution. As Veronica is watching the room, a biker gang rides up on Veronica's car. One of the gang members gestures to Veronica to lower her driver's seat window. He takes off his helmet, revealing himself to be Weevil, and asks tauntingly if she has any problems with her car. Veronica hesitates to answer with a worried look on her face.
[20 hours earlier] Veronica arrives at Neptune High for the begining of her junior year. She finds a new student stripped down to his underwear duct taped to the flagpole. As the other students stare and laugh, Veronica cuts him loose from the pole and 'welcomes' him to life at Neptune High.
Arc Significance
Edit
Main Cast
Edit
Guest Stars
Edit
"La Femme d'Argent"  — Air       [DVD only - not in original broadcast]
"What You Want"  — The Wayouts      
"Insincere Because I"  — The Dandy Warhols      
"Sitt'n on Top of the World"  — Botany Boyz      
"Just Another"  — Pete Yorn      
"White Lines (Don't Don't Do It)"  — Grandmaster Flash      
"Give You More"  — Taxi Doll      
"Girls"  — Death in Vegas      
"Bathroom Stall"  — DAMe Lee      
"Weak Become Heroes"  — The Streets      
"(Don't Fear) The Reaper"  — Blue Öyster Cult      
"Pata Pata"  — Miriam Makeba      
"Atomic Girl"  — Wannabes      
"Butterflies"  — Davíd Garza      
"All You Need Is Love"  — The Beatles       [Played on music box.]
Production
Edit
In the produced version of the "Pilot" episode, Lilly Kane is found by the pool in the same spot where she was murdered. However, series creator Rob Thomas indicated that this was not originally where Lilly's body was to be found, and the location was changed for plot consistency. [1]
The original cut of the episode is somewhat longer than the broadcast version. The original version appears in its entirety, featuring all of Piznarski and Thomas' original sequences on the DVD release of Season One.
In the original pilot, Lilly's body was dumped into a river and found later. But after the pilot was picked up by a cable network instead of HBO, Showtime or FX the network found this a little too disturbing, especially because it involved Jake Kane disposing of his own daughter's body and decided to have her body be found on the Kane property.
Rob Thomas was so impressed with Jason Dohring's acting that a scene of a tearful Logan confronting Veronica after Lilly's death was added to the script after the actor was cast.
The pilot script describes Veronica the following way: "She is not cute. She is sexy. Tough. Prematurely jaded. Angelina Jolie at 17."
The scene in which Veronica wakes up after being raped was longer and more graphic, and was edited down by the censors.
Amanda Noret, who plays Madison Sinclair, and the girl who plays Shelly Pomroy (who is not a working actress but has appeared in over eleven episodes), are cousins in real life.
It is critical to the entire storyline that Lilly's shoes were in a photo taken the night of the murder. We see the new sheriff holding up the evidence bag on TV in the first episode of season one and the shoes in the bag are flip flops. The rest of the season they are graffiti-ed tennis shoes.
The dog, Backup, is white with brown spots in the first season. During season 3, Backup is almost entirely reddish brown.
After Weevil smashes the 09ers' car with the crowbar, Logan and friends drive off. While Weevil is then talking to Veronica, the car is still parked behind them, but in the next shot it's gone again.
After Logan bashes Veronica's car and Weevil asks him to apologize, Logan's arm goes from his hip to his head in between shots.
During Veronica's flashback of the morning after her rape, she fixes the left strap on her dress. In the next scene her strap is broken again.
References
Edit
External links
Edit
Ad blocker interference detected!
Wikia is a free-to-use site that makes money from advertising. We have a modified experience for viewers using ad blockers

Wikia is not accessible if you've made further modifications. Remove the custom ad blocker rule(s) and the page will load as expected.