| | | |
| --- | --- | --- |
| Episode No. |   | Season |
| 15 | 1x15 | One |
| | |
| --- | --- |
| Original Broadcast Date | February 22, 2005 |
Chronological Information
"Ruskie Business" is the fifteenth episode of the first season of Veronica Mars.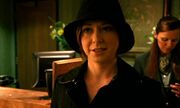 Veronica
is hired by a
Russian Internet bride
that got cold feet to find the prospective husband she left, but Veronica has other things on her mind. Like
Meg
, who is trying to find her secret admirer. And
Logan
, who, instead of finding his mom, found that his sister
Trina
was back in town.
The Russian "bride" turns out to be part of the Russian mafia, who are trying to find the "husband," to kill him, since he is actually hidden because he's in the Witness Protection Program. Veronica and Keith manage to figure this out just in time to save him and arrest some of the mafia.
Veronica tracks her mother down in a seedy bar in Barstow, only to have Clarence Wiedman follow her there.
Arc significance
Edit
Main Cast
Edit
Guest Stars
Edit
"Just Another" - Pete Yorn
"Waiting" - Taxi Doll
"Ballade for piano No. 2 in F major, Op. 38, CT. 3" - Frédéric Chopin
"One Thing Leads to Another" - The Fixx
"Time After Time" - Cyndi Lauper
"True" - Spandau Ballet
"Warm Breeze" - Jeff Tatum
Veronica: Hey, you're on the basketball team right?
Wallace: You obviously haven't seen us play, I am the basketball team.
---
Wallace: What is it with you girls and your girly-girl drama? What are you now? A love detective?
Veronica: Wallace, if you do this for me, we'll be best friends forever. Come on! Don't you want us to be BFF?
---
[Wallace, burned doing Veronica favors.]
Wallace: About this secret mission.
Veronica: What'cha got?
Wallace: A reputation as a jock-sniffer. You can B your own FF. I'm retired.
---
Wallace: Damn. This dog is a freakshow. He oughta be in show biz.
Veronica: You think that's some kind of a rare breed or something?
Wallace: That, or a drunk dingo had a three-way with a ocelot and a porcupine.
---
Meg: Well? What do you think?
Veronica: I look like Manila Whore Barbie.
---
Trina: [to a drunk Logan, who is dressed up as Tom Cruise in Risky Business] Logan, when did you stop wearing pants?
The title Ruskie Business is a play on the film Risky Business which starred a young Tom Cruise.
Denise Richards and Tara Reid were considered for the role of Trina Echolls.
Duncan holds a clipboard in his right hand that jumps to his left between shots.
External links
Edit
Ad blocker interference detected!
Wikia is a free-to-use site that makes money from advertising. We have a modified experience for viewers using ad blockers

Wikia is not accessible if you've made further modifications. Remove the custom ad blocker rule(s) and the page will load as expected.