Switchblade

Type
Standard Pocket Knife
Model
Pocket Sized
Purpose
Cutting, Self Defense
Users

Veronica Mars
Switchblades are small, retractable blades used to cut through thick and thin materials. The blade is sharp enough to also serve as a weapon to defend oneself. Veronica used this to cut Wallace down which would then start their friendship. She would later use this knife to convince Tad to tell her who gave him GHB the night of Shelly Pomroy's party.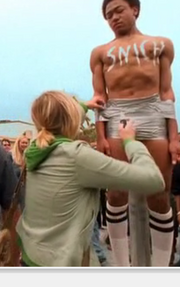 Ad blocker interference detected!
Wikia is a free-to-use site that makes money from advertising. We have a modified experience for viewers using ad blockers

Wikia is not accessible if you've made further modifications. Remove the custom ad blocker rule(s) and the page will load as expected.