| | | |
| --- | --- | --- |
| Episode No. |   | Season |
| 7 | 1x07 | One |
| | |
| --- | --- |
| Original Broadcast Date | November 9, 2004 |
Chronological Information
"The Girl Next Door" is the seventh episode of the first season of Veronica Mars.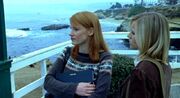 When Veronica's pregnant neighbor
Sarah
goes missing, she tries to find out if her boyfriend,
André
, killed her.
Logan and Weevil get detention.
Arc Significance
Edit
While gathering information on the Class of '79 reunion, Veronica finds out that her mom and Jake Kane dated in high school.
In a flashback, Veronica asks Lilly to find out why Duncan broke up with her. The next day, Lilly has apparently found something out and tells her to forget him and move on.
Principal Clemmons tells Logan to remind his father the offer he made about donating his boots from one of his hit movies to the school.
Logan finds out that Weevil has a tattoo of "Lilly". When questioned, Weevil says that his sister's name is Lilly.
Weevil and Logan put their English teacher's car on the flag pole. Only Weevil gets in trouble (he gets expelled), later on Logan admits to Clemmons that he did half of it. Clemmons lowers the punishment and brings Weevil back to the school.
Main Cast
Edit
Guest Stars
Edit
"The Trial of the Century" - French Kicks
"La Femme d'Argent" - Air
"Yellow Butta Sunshine" - Pop
Writing and acting
Edit
Adam Kaufman (who portrays André) would return to Veronica Mars as an FBI agent in the Season 4 pilot, a 12-minute teaser for the never-produced fourth season of the show in which Veronica had grown up and joined the FBI. This non-existent timeline is referenced in the film when Leo D'Amato says he'd heard Veronica had joined the FBI and she responds, "Another life maybe."
Clemmons: Mr. Echolls. I was wondering if I could have a word?
Logan: "Anthropomorphic". All yours, big guy.
---
[Veronica says she heard something that sounded like a falling body.]
Keith: Would you describe the sound as Hitchcockian?
---
Weevil: Well, if I thought you had the cojones to pull it off I'd tell you, but…
Logan: Never underestimate the size of my cojones.
External links
Edit
Ad blocker interference detected!
Wikia is a free-to-use site that makes money from advertising. We have a modified experience for viewers using ad blockers

Wikia is not accessible if you've made further modifications. Remove the custom ad blocker rule(s) and the page will load as expected.